Crete Food - Cretan Diet
Cretan Food in Maleme and Traditional Greek Dishes
When you are in Greece and in Crete try as much the local food.
Anywhere you will eat in Chania area or in Maleme the food is fresh and pure.
In Maleme you will find a few Restaurants. On the Beach Road are Maleme Imperial Restaurant, a little farther you will find To Kyma Restaurant, Mythos and Maleme Restaurant in the Corner. Also is Ambrosia Restaurant in Maleme Mare Hotel. Now on the way to the main Road is Bella Pais Hotel with them Italian Restaurant. Across the road from there is also a Family Tavern To Perasma.On the main Road is Albatros Restaurant another family restaurant, a Souvlaki - Kebab place and also the Black Lantern.
Now on the Main Road You will find Mike's Restaurant, with traditional Food Cooked by the mother of them Family like she cooks at Home. The vegetables like Tomatoes, Cucumbers, Potatoes, Peppers, Aubergines, Courgettes, Onions, etc. are all products from the Family's Farms and are all Organic with no chemicals. 
We Recommend Mikes Restaurant Maleme, on the main road.
The most popular Tradition food in Crete and in Greece is:
Moussaka     : ( you can pre-order also a Vegetarian ) , Is the most popular Greek Dish, layered of Vegetables and Meat.  
Dolmades      : (stuffed vine leaves) . Consisting of Vine Leaves filled with Rice and local Herbes. Served cold and also you can have on the side also, as a deep, a Greek Yogourt. 
Pastitsio       : is similar to Lasagne . Is a Greek baked pasta dish with ground meat and béchamel sauce on the Top .
Souvlaki         : is small pieces of meat - Chicken or Pork - grilled on skewer. 
Papoutsakia    : stuffed Aubaugines cooked with mincemeat and topped with Cheese 
Traditional Cheese Pies  :   called by locals Kalitsounia . 
Saganaki        : is fried Cheese . 
Kleftiko ( Roast Lamp )  :   in a parcel then roast it long and slow in the Oven .
Soutsoukakia   : are Spicy Meatballs, first fried and then cooked in tomato sauce. 
Boureki            : is a Traditional food in the Chania area and is sliced Potatoes, Zucchini Crete local Cheeses, and Mint . 
Stifado           : is Beef with small white sweet onions cooked slowly.
Tzatziki          : is Yogourt drained Cucumber, Garlic. 
Giouvetsi        :  is made with Pasta and Meat - Beef or Pork - baked in Oven . 
Traditional Greek Salad ( Horiatiki )    :  made simple with fresh Tomato, Cucumber, Red Onions, Green Peppers , Olives , Feta Cheese, and on the Top some  Oregano.
Gemista         : is Stuffed Tomatoes and Vegetables  .
Traditional Local Cretan Sausages .
Dakos            :  is with Cretan Rusk, Tomato , Olive Oil, Mizithra Local Cheese from Crete and Oregano . 
Fasolada         : Traditional Beans Soup .
Fish Plaki        : is Traditional Dish with Fish in Oven with Red Sauce .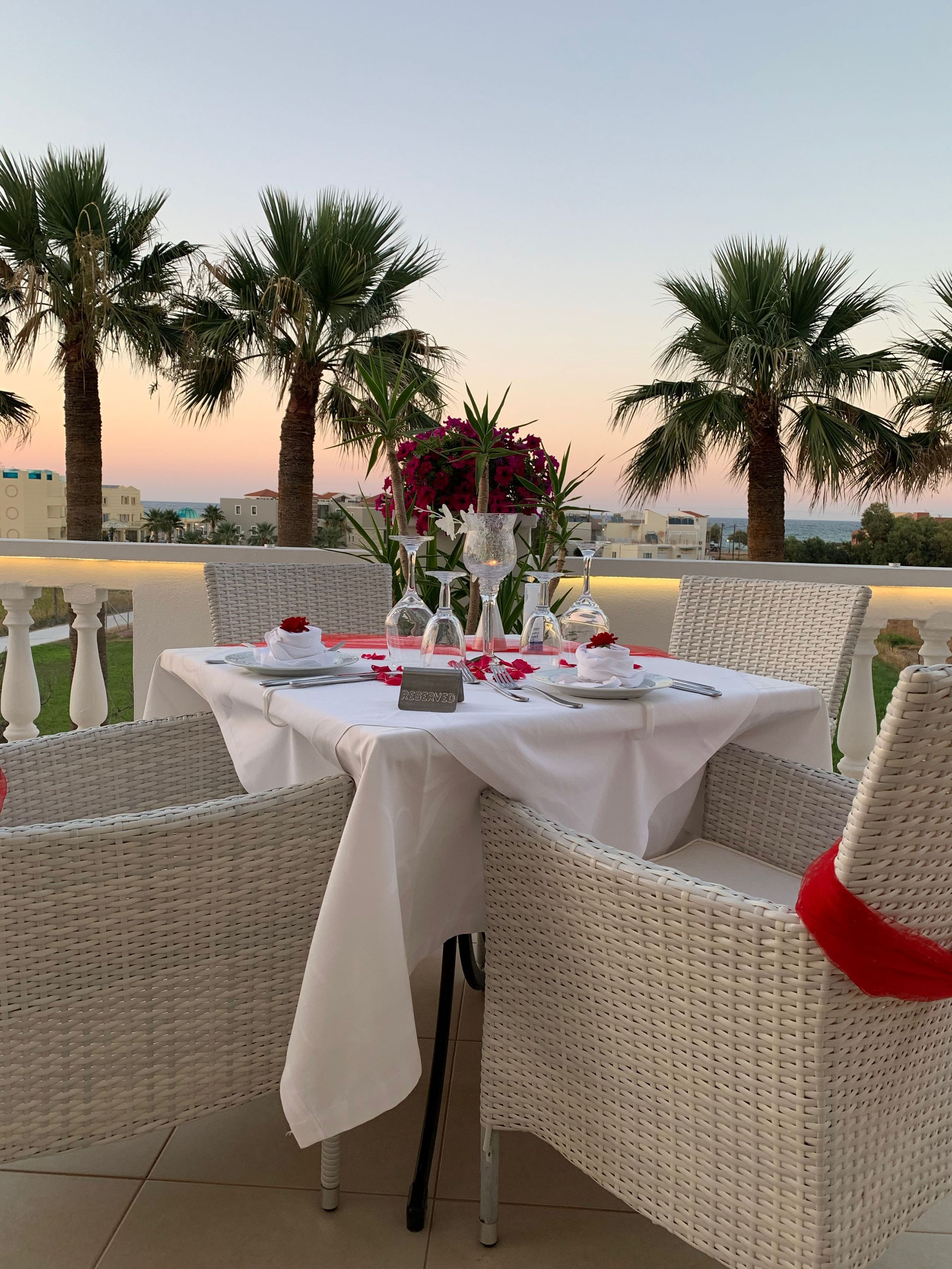 We Hope you will enjoy our Traditional Greek Food