Health & Safety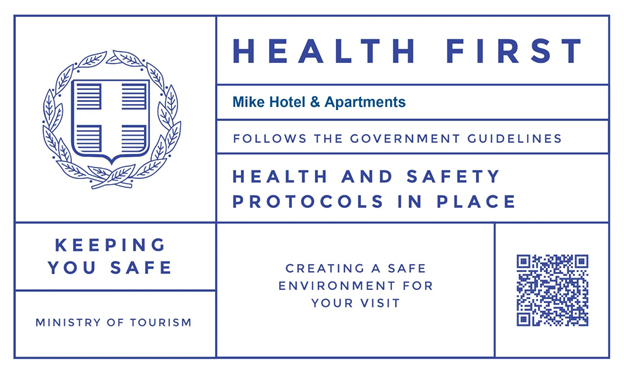 Guests and Staff Health and Safety is always our Hotel's number one priority.
The Mike's Hotel & Apartments fully complies with the National Operating Protocol, Accordance with the EU and Local Government Guidelines on the management of Coronavirus appropriate procedures to safeguard its Guests and Staff Health and Safety whilst Guests are Staying at the Hotel.
Our Goal is "Calm and Safe" Holidays with actions the Absolute Security of our Guests and our Staff, without losing the Sense of the Relaxation and the Cretan Hospitality.
Below is a list of some of the Practices that will be Implemented to protect you During your Stay.
- All our Staff has been Training, regarding Covid-19 Health & Safety Protocols.
All our Staff has been Fully Vaccinated
- Guests and Employees must Practice Social Distancing. All seating will be Arranged to Ensure Physical Distance is Maintained.
- Hand Sanitizer will be Available in Public Areas.
- Enhanced Room cleaning using Covid-Free Certified Products and Cleaning in high Temperatures of all Bed Linen, Towels, and Fabrics.
- We are Constantly taking measures to Clean and Disinfect all areas of the Hotel.
- The Bar & the Restaurant are following Strictly the Safety Rules.
- Ongoing Training for our Compliant Staff .
- Web Check-In Available: Click here for Web Check-In 
- Doctors on Call 24/7 to Provide Special Care to our Guests.
Our goal is not to Change the Peaceful Atmosphere of our Hotel but to Feel the True Cretan Hospitality, in Terms of Absolute Security and Carefreeness.